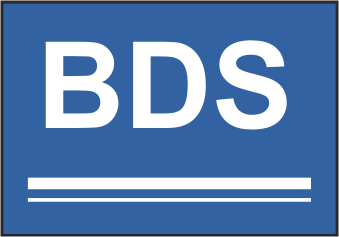 Bulgarian Institute for Standardization (BDS) is the National Standards Body of Republic of Bulgaria, a non-profit, non-governmental public organization. BDS is a
membership organization with 300 members – some of the biggest companies in the country, as well as many small and medium-sized businesses, professional and branch associations, universities, scientific and research organizations and governmental bodies. BDS develops and approves national standards, and adopts European and international standards as Bulgarian ones. It is a member and participates in the work of the European and international organizations for standardization – CEN, CENELEC, ISO and IEC.
 The standardization work is performed by 90 technical bodies (78 technical committees and 12 expert working groups) which cover all the spheres of economic and social activities, where standardization is applicable.
BDS provides standards-related products and services, incl. thematic collections of standards, handbooks and guides, information services, trainings,
subscriptions, electronic newsletters and magazines, etc.
BDS works closely with a lot of universities in Bulgaria towards promoting standardization and standards and has established 15 Information Centres for
Standardization at universities. BDS has successfully participated in several EU funded projects with the objectives to strengthen standardization in
Bulgaria, to encourage the participation of stakeholders in the standardization process, and to promote the use of standards among businesses, academia and the government.